Lepidolite, Pink Tourmaline, and Peach Amazonite are some of the most notable crystal combinations for Jade. Lepidolite can help even the most anxious mind fall asleep. Once you are asleep, Jade gets to work to help you have more insightful dreams. Pink Tourmaline can help you work on both your emotions and your wealth.
If you feel undeserving or have a hard time receiving good things, Pink Tourmaline alongside Jade will help you heal the wounds that lead you to feel like this.
Jade, in turn, also plays a role in emotional healing. If your financial troubles find root here, it is the complement Jade needs to work wonders on your bank account.
Finally, Peach Amazonite by itself is quite a remarkable stone. It both helps you with setting boundaries and becoming more creative.
When combined with Jade, you will become an unstoppable force that uses your creativity to make money in a way that makes you feel happy and fulfilled.
Jade has two main functions. The first is to aid in dreaming to gain insight about how your emotions impact your daily life.
Some people even experience prophetic dreams after interacting with Jade or sleeping with it for an extended period of time.
The second is to favor wealth, especially if your job and investments are already aligned with your soul's mission.
As it is a green crystal, it also provides support during healing processes, especially those related to the emotional body.'
15 Best Crystal Combinations for Jade
1. Lepidolite and Jade
2. Turquoise and Jade
3. Carnelian and Jade
4. Amethyst and Jade
5. Black Tourmaline and Jade
6. Chrysocolla and Jade
7. Opal and Jade
8. Moonstone and Jade
9. Pyrite and Jade
10. Citrine and Jade
11. Pink Tourmaline and Jade
12. Pearl and Jade
13. Peach Amazonite and Jade
14. Green Jasper and Jade
15. Tiger's Eye and Jade
1. Lepidolite and Jade Combination
This is definitely a winning combination for sleep and healing.
Lepidolite can bring quiet to even the most restless mind, while Jade can lead you to have dreams full of insight (and even prophetic dreams).
Lepidolite can also bring in a bit of a pause when someone is hurting too deeply.
Jade, in turn, points out what you need to heal or gives you more clarity when it comes to what route to take towards healing.
This combination is especially effective to treat certain emotional issues like having trouble letting go or excessive anger.
2. Turquoise and Jade Combination
Jade can attract abundance. Turquoise, on the other hand, helps you figure out what sort of work can make you the happiest and most abundant.
Turquoise can also be used to reflect on a resolution for a specific workplace issue.
It can also be used to protect wealth from envy and outside intruding energies from other people, whether they are consciously sent to you or not.
Together, these crystals can be used to protect your wealth and assets with great results.
They can also give you valuable insight if you're unsure as to what line of work to do.
Read more about the best Crystal combinations for Turquoise.
3. Carnelian and Jade Combination
Carnelian can direct its efforts towards making you more magnetic to new opportunities and people.
This is specifically the case for opportunities and people that will make you wealthier when paired with Jade.
Carry this combination with you to impress clients and potential bosses.
This pairing will lead you to be absolutely charismatic whenever you are talking to someone wealthy, or someone in a position to help you out with your career.
Read more about the best crystal combinations for Carnelian.
4. Amethyst and Jade Combination
This combination can help you work on your wealth specifically. It can also connect you with your psychic powers.
Amethyst, when paired with Jade, can help you identify any stagnant energy in your life.
Stagnant energy can end up working as an obstacle to your finances and your capacity to provide for yourself and your dependents.
This may manifest as insight you gain from dreams, though not necessarily.
Amethyst also helps open up your Third Eye and start distinguishing the kind of voice your gut uses to talk to you, as opposed to the voices of the mind or the ego.
In parallel, Jade will open you up to the more straightforward (so to speak) language of dreams.
Read more about the best crystal combinations for Amethyst.
5. Black Tourmaline and Jade Combination
Black Tourmaline can aid in Jade's two main double aims.
On the one hand, it protects the dreamer so no intrusive energies and night terrors get in the way of insightful dreaming.
On the other hand, it can protect one's wealth or ensure the success of current endeavors to acquire wealth.
Both crystals can alleviate heart issues and emotional issues, as Black Tourmaline gets rid of any excesses and pain and Jade promotes healing.
Tourmaline is also grounding and can help you not lose sight of reality while exploring the dream world, or not lose sight of what's realistic during the pursuit of wealth.
6. Chrysocolla and Jade Combination
Jade has a lot to do with the Zodiac sign of Pisces.
After all, this stone can be used to understand the energy of the collective through dreaming and other dialogues we have with the subconscious mind.
If you're using Jade to acquire more insight into your emotional world through dreaming and dream journaling, it's a good idea to pair it with another watery crystal.
Chrysocolla resembles the Zodiac sign of Cancer more.
It can slowly get you back in touch with your Inner Feminine, which everybody has regardless of gender.
Chrysocolla can get you to come to terms with your ability to receive (which applies very nicely to wealth) as well as with your more cyclical nature.
It can help you have dreams which help you heal from abuse, especially sexual abuse.
7. Opal and Jade Combination
Opal is another watery crystal, just like Jade, that can help the more emotionally repressed.
It helps by leading them to identify what their emotions are and how these impact their lives.
When combined with Jade, the person can do this difficult task in the safe space of dreaming.
Jade is green, so it has the potential to heal the heart. This is so because it draws some nurturing energy from Mother Nature.
To heal and understand one's subconscious world, one must have some level of emotional literacy, which Opal provides.
8. Moonstone and Jade Combination
Moonstone will help you embrace the cyclical nature of both outside events and your own energy.
It also increases your intuition, which can lead to insightful dreaming, especially when combined with Jade.
When this combination is applied to wealth, you will understand the cyclical nature of money and have a more balanced approach when it comes to spending, saving, and investing.
9. Pyrite and Jade Combination
Pyrite can provide a radical change when it comes to the way you earn a living.
Jade can work with what's already there and make the money flow more harmonious.
When they work together, they can ensure you keep on delivering on your existing job, while helping you look for opportunities elsewhere.
10. Citrine and Jade Combination
Citrine can attract success and good luck in any endeavor.
It is energizing, so it's only a good idea to use Citrine when you're supposed to be up and about.
When combined with Jade, it will attract luck and success to the realm of wealth.
Jade can help you dream of ways in which you can be successful in endeavors related to money and investments, especially if this crystal interacts regularly with Citrine.
Be careful with using Citrine close to bedtime, as it can work a bit like a shot of espresso.
11. Pink Tourmaline and Jade Combination
Pink Tourmaline can heal people who give too much and have difficulty accepting that receiving is also part of the cosmic balance.
These people may feel unworthy of receiving love. This applies to wealth and your sense of self-worth as well.
This is why it is a good idea to combine both to start to ask clients and bosses for what you are worth.
It can also help with healing the heart by providing a grounding element that helps you be realistic about your emotions.
12. Pearl and Jade Combination
Pearl helps us access the collective memories of our Lunar Ancestors.
They were often women who developed wounds around money because it wasn't acceptable for them to handle it, or their husbands and fathers had an easy time with financial abuse.
All of us carry the wounds surrounding money that these ancestors have.
When paired with Jade, Pearl can help you dream of this oppression so you can first acknowledge it and then heal it.
It will also provide you with the strength of these ancestors to tackle all your financial issues.
You will also become more intuitive when it comes to money.
13. Peach Amazonite and Jade Combination
Peach Amazonite integrates the strength, courage, and intelligence needed to become better at setting boundaries, especially in the bedroom, with an increase in creativity.
If this means letting go of some people that may be in the way of your creativity.
When used with Jade, it promotes dreaming of creative ideas that are perfectly usable in your waking life.
As well as creative business ideas or ideas relating to the job search, sometimes also in your waking life.
14. Green Jasper and Jade Combination
If your unaddressed emotions are getting in the way of your health, this is the way to go.
While you get to the root of the problem while you sleep, you will experience some relief and plenty of nurturing in both your sleeping and waking life thanks to Green Jasper.
15. Tiger's Eye and Jade Combination
Tiger's Eye is an energizing crystal physically but especially mentally. It can help you stay focused.
It is also tied to your soul relationship with your mother.
If your abundance has to do with that or your maternal line, pairing this stone with Jade will help you bring this unconscious information that may be an obstacle to the conscious mind so you can begin to heal it.
How to use crystal combinations for Jade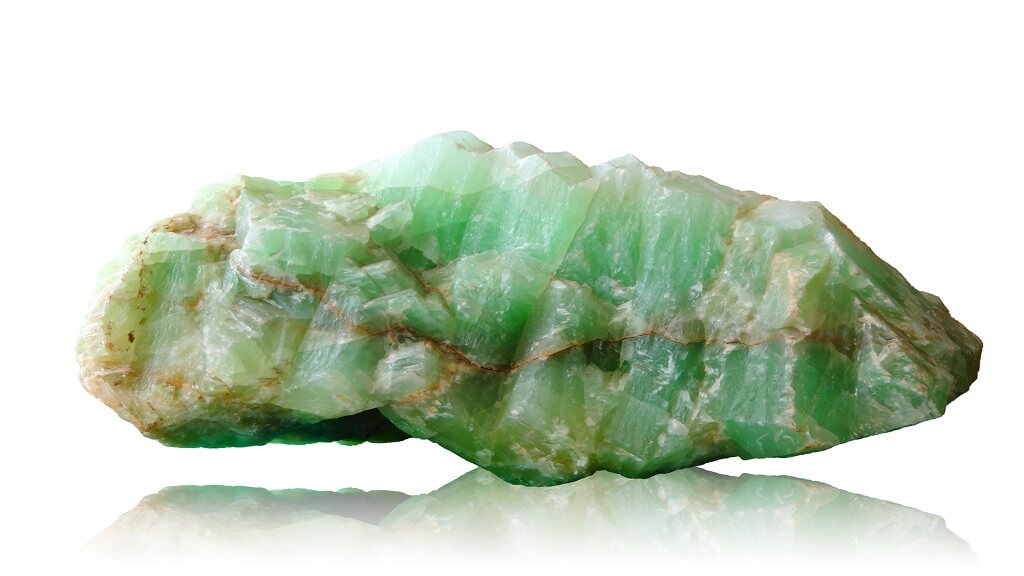 Make gold jewelry with the pairing
Gold as a metal has connections with wealth and abundance and boosts the power of the crystals it comes into contact with.
Especially when the companion chosen for Jade is apt for jewelry, such as Pearl, Moonstone, Opal, or Pink Tourmaline, this is a great idea.
To make this combination even more powerful, wear the piece of jewelry on the left side of your body, which has to do with being receptive to the energy associated with the crystals.
If possible, keep the jewelry piece wrapped in a piece of silk when you're not wearing it, as silk will keep the energies insulated.
Keep the pairing in a sachet under your pillow
You can make a simple sleeping sachet by placing the crystals inside a cotton bag with some cotton if you want it to feel soft to the touch and perhaps add some relaxing herbs like Lavender or Valerian.
Of course, this isn't apt for Tiger's Eye, Citrine, and other crystals that boost your energy.
Make sure to retrieve the crystals once in a while, replace the cotton and herbs, and cleanse and charge them.
Have your clothes be infused with the energy of these stones
Placing the crystal pairing in a drawer or over the clothes you have selected the night before will help you have a more abundant attitude towards life while you're out and about.
This is so because your clothes will absorb the energy of the pairing and transmit it to your body through touch.
This is a great idea before job interviews and negotiation instances.
Make a home spray
Crystal water isn't safe for ingestion, but you can always use it to spritz around your home.
This will keep the energies in your home harmonious.
Place a clean piece of Jade and a combination that won't dissolve underwater or make it toxic, pour some sun water on top and some vodka or apple cider vinegar so it doesn't go bad in a few days.
Add some Ginger essential oil. Unsafe pairings for this use include Pyrite and Opal.
Place the pairing on your wealth corner
The farthest left corner in any given room has to do with wealth in Feng Shui.
Placing a simple piece of cloth, especially in a color associated with abundance like green, purple, or gold (though white will do in a pinch) and the crystal combination on top of this corner can work wonders for your finances.
Final Thoughts
Crystal combinations like Pyrite or Citrine can boost your finances.
On the other hand, combining Jade with crystals such as Lepidolite can help you have a better quality of sleep (and not just better quality dreams!).
Some other combinations, like Pearl, work on the ancestral roots of the problems in your finances, while others like Opal and Pink Tourmaline can help to address repressed emotions.