In choosing the perfect necklace lengths for women, there are many different factors to consider.
It doesn't matter whether it's a string of pearls, a shiny new pendant, a gold or silver chain, a choker, or anything else, as a woman, finding the right necklace lengths is not a simple task.
Necklaces are of course synonymous with style, beauty, grace, and elegance and many consider them to be the quintessential piece of jewelry for making a fashion statement.
A necklace just screams 'style' and 'charm' and if chosen correctly it can really bring any outfit to life.
Moreso, choosing the right necklace length can make or break an outfit. Yet doing so is not as easy as you may have thought.
which is why people sometimes struggle when choosing one.
Here's a look at how to choose the perfect necklace lengths for women.
Necklace lengths for Women Size Chart
First and foremost, to ensure that you do indeed choose a necklace length that compliments your outfit, but more importantly, that you're happy with.
We've created this simple size chart to make your search much easier.
Necklace Style
Necklace Length
Necklace Placement
Looks the Best With
Collar
12 – 14-inch
Tightly around the neck
V-necks, open neck clothing, boatnecks, and off-the-shoulder outfits.
Choker
16-inch
Tightly against the base of the neck
Most outfits
Standard (Princess)
18-inch
On the collarbone
Almost every style of outfit
Matinee
20 – 24-inch
Between the collarbone and the bust
Business and casual wear, including formal loose-fitting business attire, collared shirts, and higher necklines.
Opera
28-36-inches
On the bust or 1 – 2 inches below the bust
High necklines such as turtlenecks, polo necks, and boat necks. It is also ideal for evening wear.

Depending on the length and your build, you may even consider wearing an opera-length necklace wrapped more than once around the neck.  
Rope
36-42-inches
Wrapped so that it sits on or just below the middle of the bust
Elegant evening wear and business wear.
Layering necklace
Varies depending on the styles of necklaces worn
Again, this varies depending upon the styles of the necklaces being layered
Different necklines depending upon the necklaces you choose to layer.
Necklace Styles
Having looked at the various necklace lengths for women that are out there, and which ones work best with which outfits.
It's time to delve a little deeper and explore the different necklace styles in more detail.
Collar
Collar necklaces may sometimes be referred to as crew style necklaces, because they fit over and around the neck similarly to how crew neck t-shirts fit around the neck.
People often confuse these with choker necklaces, and while similar, there are some key differences to be aware of.
The main thing that sets collar necklaces apart from choker necklaces is the length.
Collar necklaces are typically shorter in length and are 12 – 14 inches in length.
Choker
Choker necklaces fit closely around the base of the neck and work great with a whole variety of different styles of clothing.
It doesn't matter whether you're going for a smart-casual look, a formal look, or a professional look, choker necklaces can compliment outfits of these styles beautifully.
Contrary to the name, a choker necklace should fit snugly around the neck, without feeling restrictive.
Choker necklaces suit most people because they go so well with so many different styles of clothing.
The only exception would be for people with large necks, or fuller figured individuals as chokers can look and feel a little restrictive on fuller frames.
Chokers can also enhance the length of your neck and make it appear longer, due to the position on the neck they are worn and how they fit.
Princess
Princess necklaces are the most commonly purchased style of necklace, due largely to the fact that they too go with different styles and fit of outfit.
Princess necklaces work well on plus-size women, petite women, and average sized women alike.
If an outfit suits a necklace, it will almost certainly be guaranteed to suit a princess necklace.
If the princess necklace in question features a pendent and forms a v shape, it will look magical with sweetheart necklines, surplice necklines, and outfits with a V-neck.
Matinee
Matinee necklaces fit the best between the bust and the collarbone.
They go great with a variety of different styles of outfits, including casual wear or more formal wear like business attire.
Women who work in office environments can particularly benefit from matinee style necklaces, especially those who wear higher necklines and collared shirts.
As far as the size and shape of the wearer goes, women with longer necks, fuller necks, and longer frames look particularly elegant when wearing matinee necklaces.
Opera
Opera style necklaces work particularly well with outfits featuring higher necklines.
As the name implies, they're also great for more formal eveningwear and would look great when worn with a dress on a trip to the opera.
Opera necklaces work great on plus-size women, though smaller-framed women also look great with these necklaces.
Depending on the build of the wearer and the length of the necklace in question, smaller-framed women may also be able to wear these styles of necklace wrapped more than once around the neck.
Wearing the necklace in this manner would form a double-stranded choker or collar.
Rope
A rope necklace is basically any type of necklace style that is longer than an opera style.
As you can tell, these necklaces are typically the longest types of necklaces that you can purchase and they are usually designed to be wrapped more than once around the neck, where they will form a double stranded necklace.
Rope necklaces are of course best suited for women with longer necks, and they work great with plus-sized women, and average-sized women.
Women with petite frames can also pull off rope necklace looks, though special care and attention must be made when choosing an outfit.
How to measure necklace lengths for women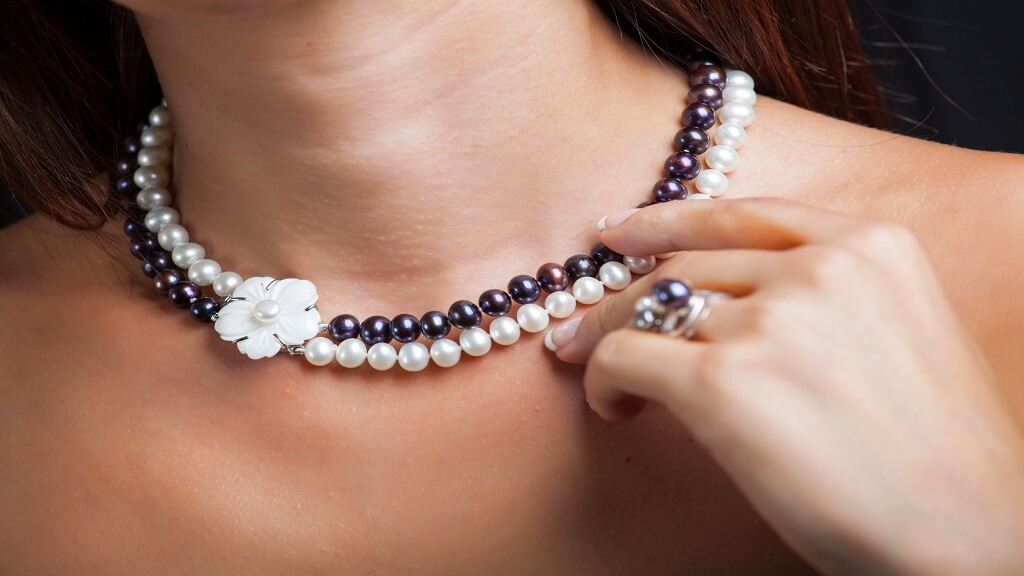 It doesn't matter whether you're on the hunt for a shiny new pendant, an elegant choker, or a more lavish opera-style necklace you can wear for a big night out.
Finding a necklace that fits and suits your frame perfectly is essential, so pay close attention to this next section.
When measuring for a necklace length, the easiest way to go about it is simply to measure the length of an existing necklace that you own that fits you comfortably, that you feel will be the perfect length for the outfit you plan on wearing it with.
Simply use a tape measure, some soft measuring tape, or even some string or ribbon and measure the existing necklace and then go from there.
It is much easier to do this while standing in front of a mirror as you can see where the necklace will be on you.
If you have somebody with you, have them hold one end of the tape, or if not, make use of a safety pin.
If you're not sure which outfit you plan on wearing the necklace with, why not go through your wardrobe and have a mini fashion show by trying on different outfits and seeing how the length of your prospective necklace looks with different outfits with different styles and necklines, etc.
If you are considering a necklace with a pendant, just remember that the pendant will sit lower than the actual chain itself.
It will also form much more of a prominent V-shape instead of a softer curve, especially if the pendent is bulky and heavy.
Factors to consider when choosing your necklace length
Knowing which length of a necklace to choose is of course important.
But before you can decide which length to go with, there are several important factors that you should first take into consideration, including the following:
Neck size
One of the most important considerations when choosing a necklace length has to be your neck size.
The last thing you want is to purchase a beautiful looking necklace, only to find that when you put it on it doesn't fit right or feel right around your neck.
Now, the wonderful thing about human beings is our individuality, as each person is different and unique in their own way.
Some people are tall, whereas others are short. Some have thick hair, whereas others have thin hair.
Some people have wide and broad necks, whereas others have slim and dainty necks. Neck size can be the deciding factor when choosing a necklace, so make sure you measure yours.
Simply use a soft measuring tape and wrap it carefully around your neck.
Take the reading carefully, and whatever the size is, add 2 inches to this as this will be a comfortable length for chokers.
For pendants or necklaces around 18-inches in length, go ahead and add 4 inches.
If your neck is long, chokers and shorter necklaces work best.
Shorter necked individuals may wish to avoid chokers and shorter necklace lengths.
Your height
Another important consideration when deciding upon a necklace length is your overall height.
Obviously, you want a necklace that flatters and compliments your body shape and size, which is why your height needs to be factored into the equation.
Of course, there are exceptions, but generally shorter women who are 5ft 4 and below tend to suit necklaces between 16 and 20 inches in length.
Women of a medium height between 5ft4 and 5ft 7 tend to suit necklaces of any length.
And taller women who are 5ft 7 and above tend to suit necklaces of any length as well.
Although if you are tall and slender a longer length necklace would look best.
Your body type
Another way in which we're all individual is in our body types.
Just because two women may be the same height and the same weight, that doesn't mean that they will also have the exact same shaped body.
When deciding on a necklace length, make sure you take your body type into consideration.
Remember, other people's gazes will be being drawn to where the necklace ends on your body.
So be mindful of this if you don't wish to draw attention to certain parts of your anatomy.
If you have a smaller bust, layered chains or long and thin chains would look fantastic on you.
If you're bustier and/or fuller figured, avoid necklaces that sit just below the bust line because they won't hang perfectly.
You may instead wish to opt for a necklace that fits a little higher on the body, with 18 – 22-inch necklaces such as princess or matinee style chains being great choices.
The shape of your face
Finally, the last thing to take into consideration when choosing your ideal necklace length is the overall shape of your face.
Necklaces don't just work as fashion accessories to enhance an outfit, they can also frame the wearer's face and accentuate a person's strongest facial features, whilst masking those features they're less confident with.
If you have a round face, stay away from chokers and shorter necklaces as these will make the face appear even more of a circular shape.
If you have a longer and thinner face, avoid longer necklaces and instead opt for shorter necklaces like chokers or princess necklaces.
If you have an oval face, however, you can enjoy the best of both worlds as both long and short necklaces work with this particular face shape.
Choosing the right necklace length for different necklines
While necklaces can indeed bring any outfit to life, if you happen to wear the wrong type of necklace with the wrong type of neckline, this can actually have the opposite effect.
Here's a look at some different types of necklines and which necklaces may be best-suited.
Boat necklines
Boat necklines look fantastic when worn with chokers and shorter necklaces.
Ideally, you should opt for a 14-16-inch necklace, making sure that the necklace itself falls above the neckline.
Diamond chokers or chains look great with boar necklines, as do short pearl pieces for more of a stylish and elegant look.
Square necklines
If you wear an outfit with a square neckline, the good news is that you have plenty of options in terms of necklace length.
Multi-layered chokers work great here and can be as casual or as elegant as you would like.
The length and depth of the cleavage on show should also dictate the length of your necklace.
Ideally, however, an 18-inch princess necklace or a slightly longer matinee necklace would also work great.
High necks/turtlenecks
If your outfit features a high neckline such as a turtleneck or polo neck, a long necklace length such as a rope necklace would work extremely well when opting for a glamorous look.
If you don't feel like wrapping, an opera length necklace will work beautifully as well.
Asymmetrical necklines
Outfits with asymmetrical necklines usually look at their most fabulous when used in conjunction with shorter length necklaces such as chokers or princess necklaces.
If you're really feeling glam and have a stunning dress featuring an asymmetrical neckline, how about a pearl choker necklace?
This will look elegant, but not overly lavish, helping to create the perfect outfit.
Strapless necklines
Dresses featuring strapless necklines are absolutely stunning, particularly when it comes to wedding dresses or cocktail dresses.
Here, you want the dress to draw much of the attention, which is why a standard or shorter necklace length works the best.
Any necklace longer than a princess necklace will look out of place and make the entire outfit seem off balance.
Sweetheart necklines
Without question, if you're wearing a dress sporting a sweetheart neckline, you should go for a drop pendant or necklace.
It doesn't matter whether you go for pearls, a gem, or even multiple gems, sweetheart necklines look their most stunning when accentuated by a drop pendant or necklace.
Scoop necklines
Outfits featuring scoop necklines work best with very short necklaces such as collar necklaces.
These necklaces complement the neckline of the out perfectly without creating an uneven look by dangling too low.
V-neck necklines
A V-neck neckline is very similar to a scoop neckline, except for the fact that it creates much more of a prominent V-shape – hence the name.
Just like scoop necklines, therefore, short necklaces such as 14-inch collar necklaces, or slightly longer chokers, look and fit the best.
Collar necklines
A collared neckline is a neckline featuring a collar that is set within the neckline.
Because of the shape and style of this neckline, short necklace lengths such as collars work the best here.
Although, with careful planning, you can get away with a short pearl choker, which is always a hit.
Plunging necklines
Now, on the other end of the spectrum, we have plunging necklines.
Dresses or outfits featuring plunging necklines are complimented beautifully by matinee style necklaces between 20 and 24-inches in length.
The plunge of the neckline itself also plays a role in deciding which style of necklace to opt for.
If the plunge is wide, opt for bold statement pieces. \For narrower plunges, smaller and thinner chains/pearls should be chosen.
Off-shoulder necklines
Off-shoulder necklines look fantastic with off-shoulder garments, though to really tie everything together, you must ensure that you select the correct length necklace.
16-inch statement chokers are great for drawing attention to the collarbone, though 18-inch princess necklaces can also work a treat, as well as they aren't too thick and bulky.
Frequently Asked Questions
Finally, to wrap things up before you venture out with finding your dream necklace, we put together the most frequently asked questions relating to necklaces, necklines, and necklace lengths.
Should a necklace be worn under or over your top?
In truth, anything will work here providing it is the right size to sit comfortably below the breastbone and your neck.
What is the most flattering necklace lengths for women?
This is subjective because it's all based on the wearer and their outfit.
Generally speaking, a necklace length of 16 inches is very popular which is why chokers are so popular with women of all shapes and sizes.
What is the most popular length of necklace?
Statistically, 18-inch princess necklaces are the most popular as this length is the most commonly worn, and has been found to suit most wearers and outfits.
How long should a necklace be for a woman?
There is no one true answer to this question because there are so many variables to consider.
18-inch necklaces are the most common and arguably the most popular, but in terms of length, it all depends on you and your outfit.
Where should a necklace fall on a woman?
Ideally, a standard necklace length should fall perfectly around the base of the wearer's neck, just like a collar.
Plus-size women should find that it should sit like a choker, whereas on petite women it should hang level with the collarbone.
What size necklace fits overhead?
Typically, longer chain necklaces between 28 and 30-inches slip over the head perfectly without the need for unfastening.
For people who struggle with clasps, or even with shoulder mobility, this is certainly worth remembering.
How do I know if my chain is too short?
The easiest way to determine if a necklace chain is too short is to see how it feels when you're wearing it.
If the necklace is tight, uncomfortable, or restrictive, it could be too short in which case a necklace chain extender may be required.
Is a 20-inch chain too short?
This definitely depends on the style of necklace you're going for, and the type of outfit you're wearing it with.
If you're wearing a stunning evening gown with a plunging neckline, then a 20-inch chain will be too short and should be replaced with an opera-style necklace or a rope-style necklace.
If, however, you're simply wearing a loose-fitting shirt at work, a 20-inch matinee necklace will work fantastically well.